Welcome!
You are about to enter the world of Piano Analytics. In this article, we will guide you through the different tools depending on your needs. We hope you will enjoy the ride, if you have any question please visit our documentation or contact our friendly support team.
What is Piano Analytics?
Created in 1996, Piano Analytics is one of the French Internet's early pioneers. After two decades of existence, AT Internet is the only European company today among the worldwide leaders in digital analytics and digital intelligence. Our solution helps some of the world's largest brands to measure, analyse and visualise their digital performance.
Piano Analytics empowers you to maximise use of your data and transform its potential into true value for all members of your company. From collecting data to visualising it, start making the right decisions at the right time thanks to our digital intelligence solutions.

A solution suited for everyone
No matter your industry or your role within the company – decision-maker, digital analytics expert, marketer or business user – you can easily get business-oriented reports to track your KPIs. From ready-to-use report templates to highly advanced data mining features (and let's not forget segmentation), the Analytics Suite Delta's intuitive interfaces are to be used and customised based on your profile and needs.

What do you want to achieve?
I want to analyse I want to extract data I want to share data I want to tag my site
Analyse your data
Discover a new type of data analysis experience with Explorer, for iterative data exploration in a clean, simplified interface. Put your data into different perspectives and uncover new insights, thanks to a range of tools including filters, drill-downs and live segmentation. Not sure where to start? Our standard out-of-the box analyses are ready to use, so you can jump right into your data exploration and infinitely refine your results.
For more specific needs, Explorer also offers extra modules! With the Navigation module, visualise how people navigate through your website or mobile app in just a few clicks. Which pathways do they take? Where do they leave? Which sequences of pages most often lead to conversion?
Sales Insights, our e-commerce module helps examine the interactions between your customers and your product catalog: star products, products losing popularity, low-visibility products, etc.
Extract your data
Once you've studied your data in Explorer, take your analyses even further with Data Query, the essential data mining tool for digital analysts. Dig deep into your data to answer highly specific questions about your performance across sites and properties, all by dragging and dropping. Filter, combine and cross-calculate your metrics, dimensions and segments to zero in on actionable insights. You can easily export data sets created in Data Query via API or deliver them on an FTP server for automated processing.
Share your data
Your data is only as valuable as the decisions for which it can be used. In other words, if your analytics data remains locked up in the hands of just a few analysts, it's not being used to its full potential for your business. With Piano Analytics, you get tools adapted to different types of users with different data needs, so that data can circulate freely within your organisation in an effective yet secure, controlled way.

Get an overview of your digital performance in the blink of an eye, for one site or for many. Build eye-catching dashboards that are fully customisable to your company's needs and brand identity. Start with one of our out-of-the-box templates, or design your own dashboard down to the pixel with drag-and-drop tools. Invite others to collaborate, then share your dashboards via email or PDF, or publish them to a monitor so all teams can follow performance in real time.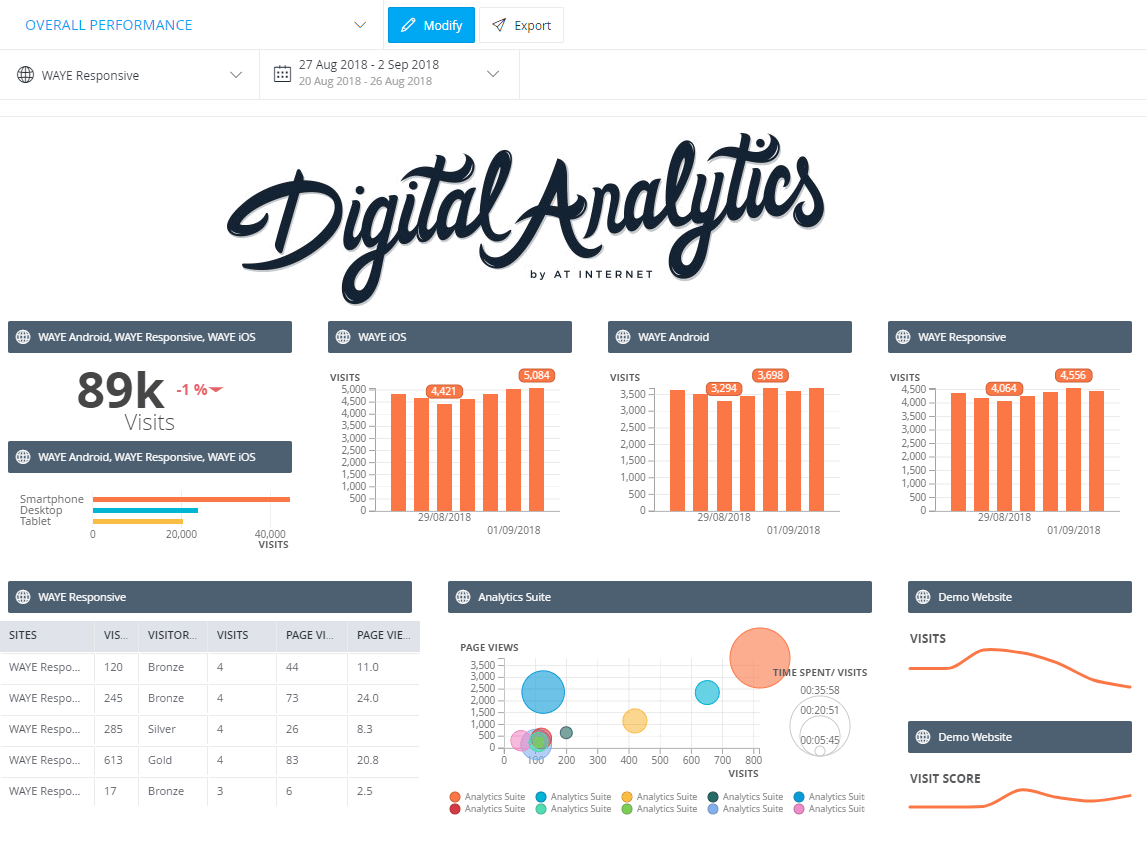 Tag your site
You are looking to implement the solution and start tagging your sites ? PIano Analytics makes it simple to tag your properties on both web and mobile, using an implementation perfectly customised to your needs. Start off on the right foot and set the foundation for strong data quality with tools from our user-friendly Data Collection Portal. Before you dive in, visit the Developer's Documentation.