About Airship
Launched in 2011 by Digital CRM entrepreneurs, Airship develops and provides the most advanced Push Notification Technology for Mobile Apps, Websites and Facebook Messenger.
Operating in 70 countries on 5 continents, Airship is the European #1 Push Notification Technology, with over 6 billion Push Notifications sent to 750 million consumers monthly.
Learn more: https://www.airship.com/
Discover the connector
Activate your data through the connector between Airship and the Analytics Suite 2.
Airship is a push notification tool available as a SaaS solution which enables CRM and Marketing managers to accelerate the engagement of their app users and website visitors by empowering them with all the necessary tools and features to send targeted, personalized and automated Push Notifications to their customers on desktops, mobiles, tablets and smartwatches:
Create visitor segments in Analytics Suite 2 based on visitors behavior on your site and share them in Airship to customize the push notifications you will send;
Tag all your push campaigns to follow them in the Analytics Suite 2 and understand which ones allow the most conversions.
Tag your push notification
Usually done by marketing teams in order to get it back on the interface.
Tips
Be careful, you have to make sure to get the xto parameter in the push notification and thus ask the developers to get this element.

When using Piano Analytics SDK, you can add the tracker to Airship campaign in order to measure your performances on Piano Analytics tools.

In order parameters to be correctly transmitted to the Piano Analytics SDK, it will be necessary to make sure that the Custom params are tracked by Airship SDK:

Through Airship , you can add custom settings to the following campaigns:
click push notifications
Inapp to display and / or click
Scheduled click alerts
In order to allow the Piano Analytics SDK to retrieve the tracking parameters, you must follow the following steps on developers website : https://developers.atinternet-solutions.com/apple-universal-en/advanced-features-apple-universal-en/notifications-apple-universal-en/
Once set up, you can add the AT trackers in the following form for example:
Key: xto
Value: AD-3030- [ad_Version_7] - [without_text] - [468] - [www.site.com] - [GT] - [top_page]

Send segment to Airship
Piano Analytics segmentations done in Data Query can also be sent to Airship in order to send a personalized push following visitors behavior.
One use case could be to target all visitors who have seen an episode of a sitcom. The export will be composed of all these users and sent to an Airship FTP. Airship will then be able to target all the visitors of dedicated information.
Use case below have been done by a streaming customer:
A segment is created to list all users who have seen an episode of The Walking Dead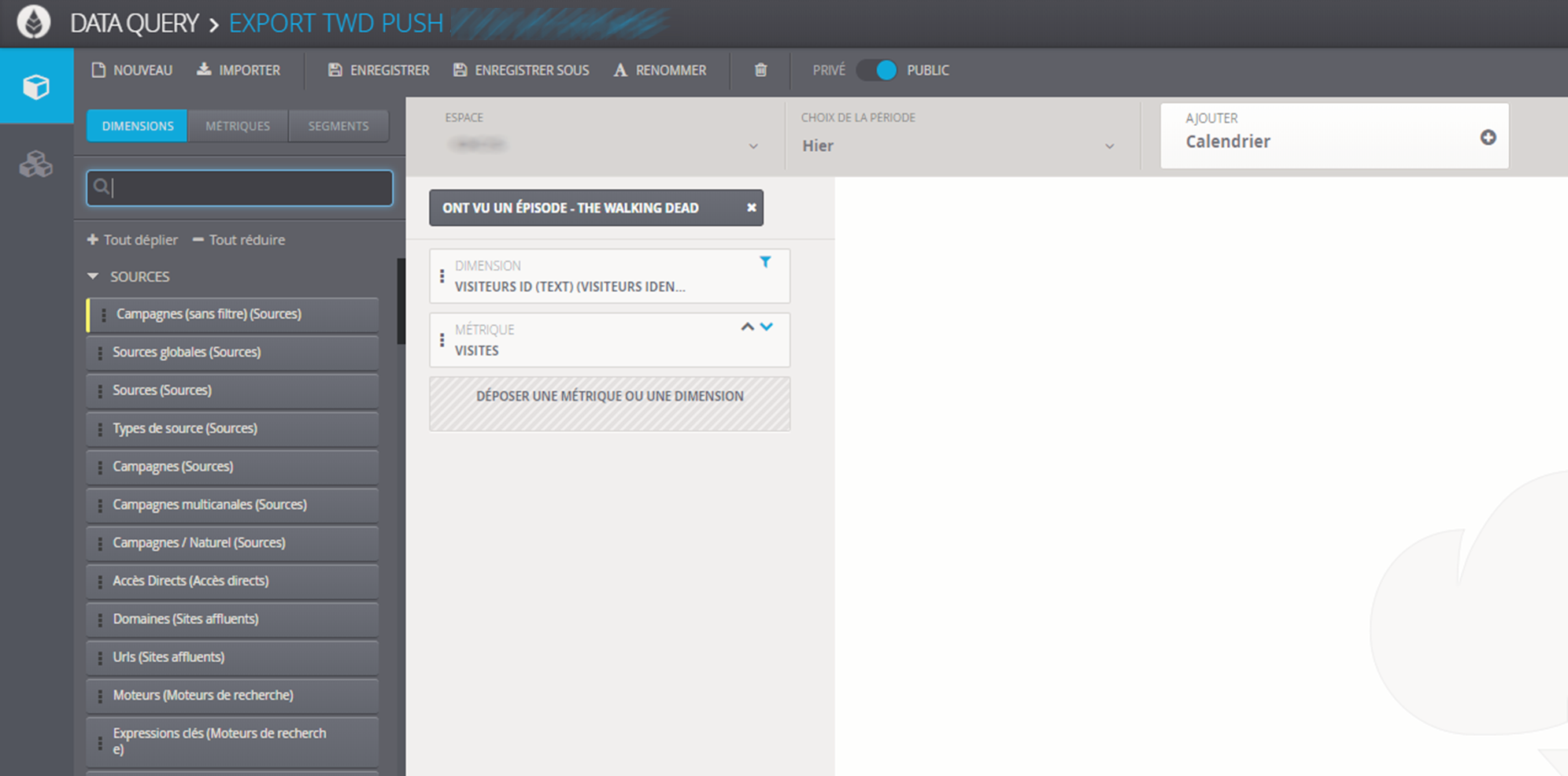 Privacy
Activating this partnership activates the import of Airship data into Piano Analytics tools and the export of Piano Analytics data into Airship. Only the data necessary for the proper functioning of the bridge are imported an exported.