Important
This article shows how the connector works with the Data Query 2 API.
About Klipfolio
Klipfolio is trusted and relied on by over 11,000 of the world's best and brightest organizations. As a leader in the cloud-based business intelligence dashboarding and reporting market, Klipfolio is a cost-effective, flexible analytics solution that integrates with hundreds of data services to create powerful business insights. With customers in healthcare, financial services, consumer goods, non-profit, and marketing, sales, support, Klipfolio is changing the way data is used one Klip at a time.
The main areas in which we work
Data connectors
Data visualization
Data aggregation and analysis
Dashboarding
Data reporting
Data sharing
Templates
Responsive Solution
Differentiating point
What makes Klipfolio different is its ability to connect different data sources and display them in intuitive and powerful dashboards. These data are easily accessible and easily manipulated by any type of user.
Access all your Piano Analytics data: thanks to its connectors (REST URL, File sharing, FTP sharing, Email attachments), Klipfolio lets you connect a wide range of sources and display key data on real-time business dashboards.
Customize your analysis: Whether you're an analyst or a business user, you're in control of your data by simply building custom Klips and dashboards without having any technical knowledge.
Create beautiful Responsive visualizations: tables, graphs, gauges, curves, images, iframes ... Display easy to read and relevant dashboards on any kind of device (mobiles, tablets, monitors, televisions).
Publish your analysis: say goodbye to manual reports and hello to automation by sharing your dynamic dashboard. Set up scheduled Email, PDF files reports, public Web link...
Learn more at: https://www.klipfolio.com/
Import data into Klipfolio
To start you just need to create an account and connect online. Klipfolio is a SAAS application, no need to install anything on your machine. Klipfolio acts remotely and will read the information without necessarily downloading them.

Select a data source in Klipfolio
Klipfolio offers numerous possibilities for data connection. You can choose from more than 100 specific connectors and different source types: REST URL, SQL Database, File sharing, FTP sharing, Email attachments.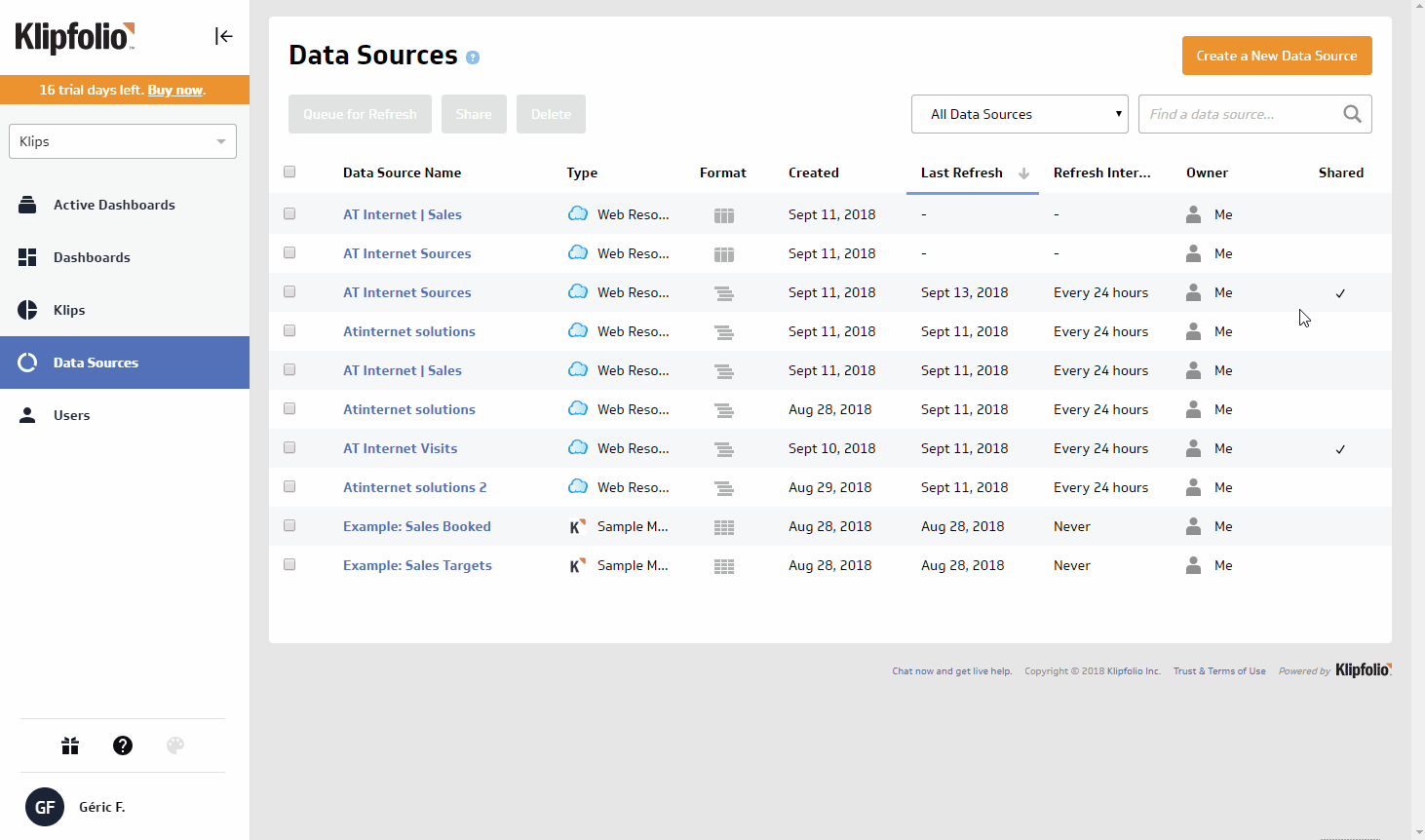 To connect you Piano Analytics data, choose the REST/URL connector.
Create a REST/URL setup in Piano Analytics
This important step allows you to establish the setup of your REST/URL connector and to import your Piano Analytics data into Klipfolio.
The simplest way to do this is by using the REST/URL connection feature available in the above library.
You'll then be able to load a REST URL (in XML or JSON format) which you can obtain directly in the Data Query application within Piano Analytics.
Create a Data Query request
Build your query in Data Query and select the API REST URL relating to your data set. Go into Data Query: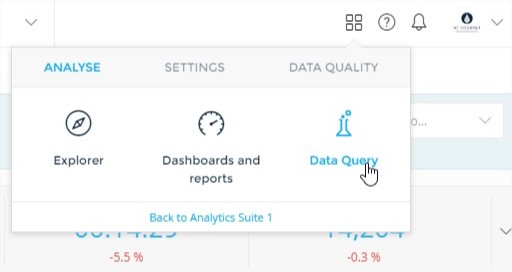 Create a template or use an existing template: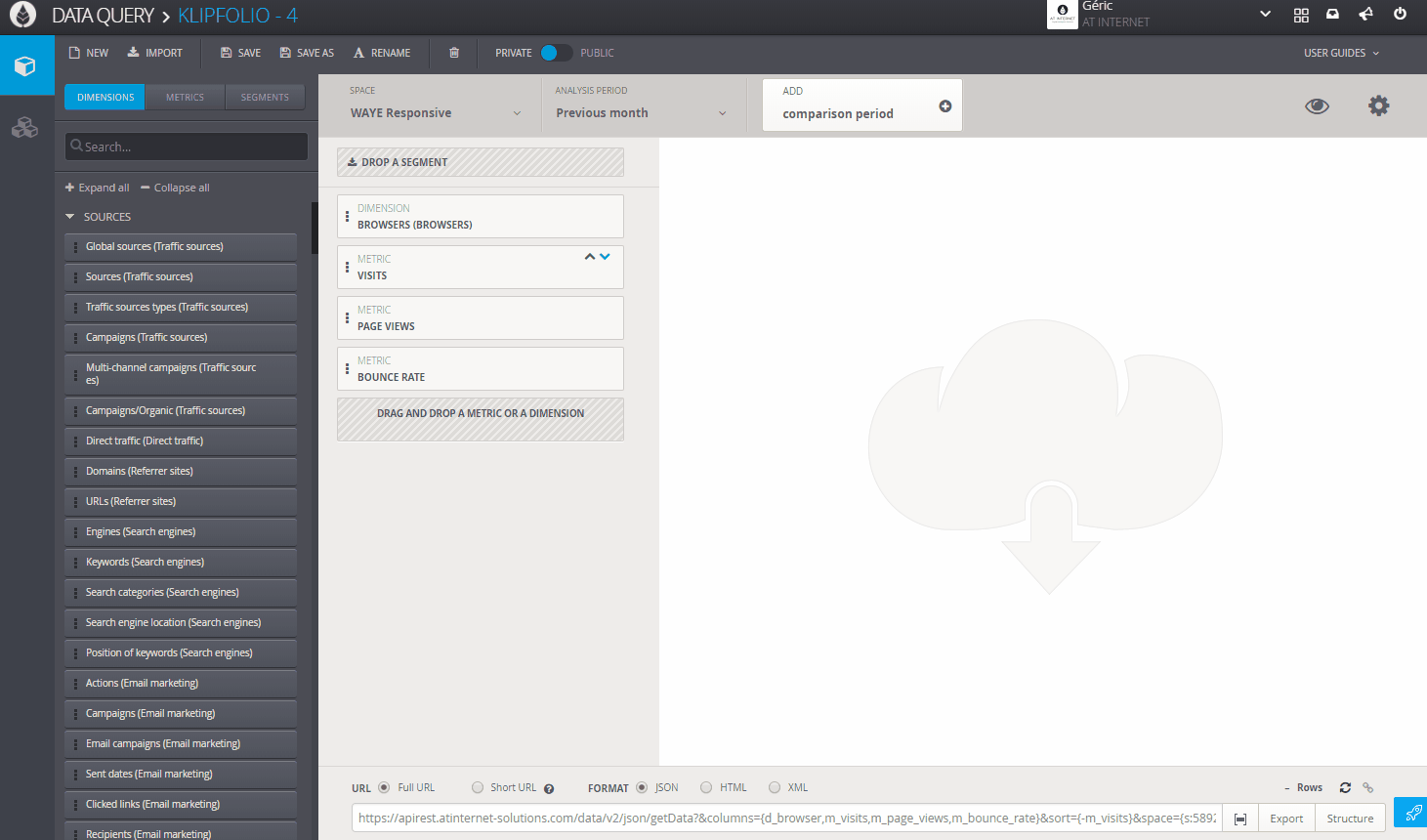 Import data from the Piano Analytics API into Klipfolio
Select the URL created below the dataset in the desired format.
Paste this Data Query URL into the Klipfolio interface's QUERYURL
During the import, you will be asked to enter your Piano Analytics account login and password. Select the basic HTTP authentication mode, as in the below example.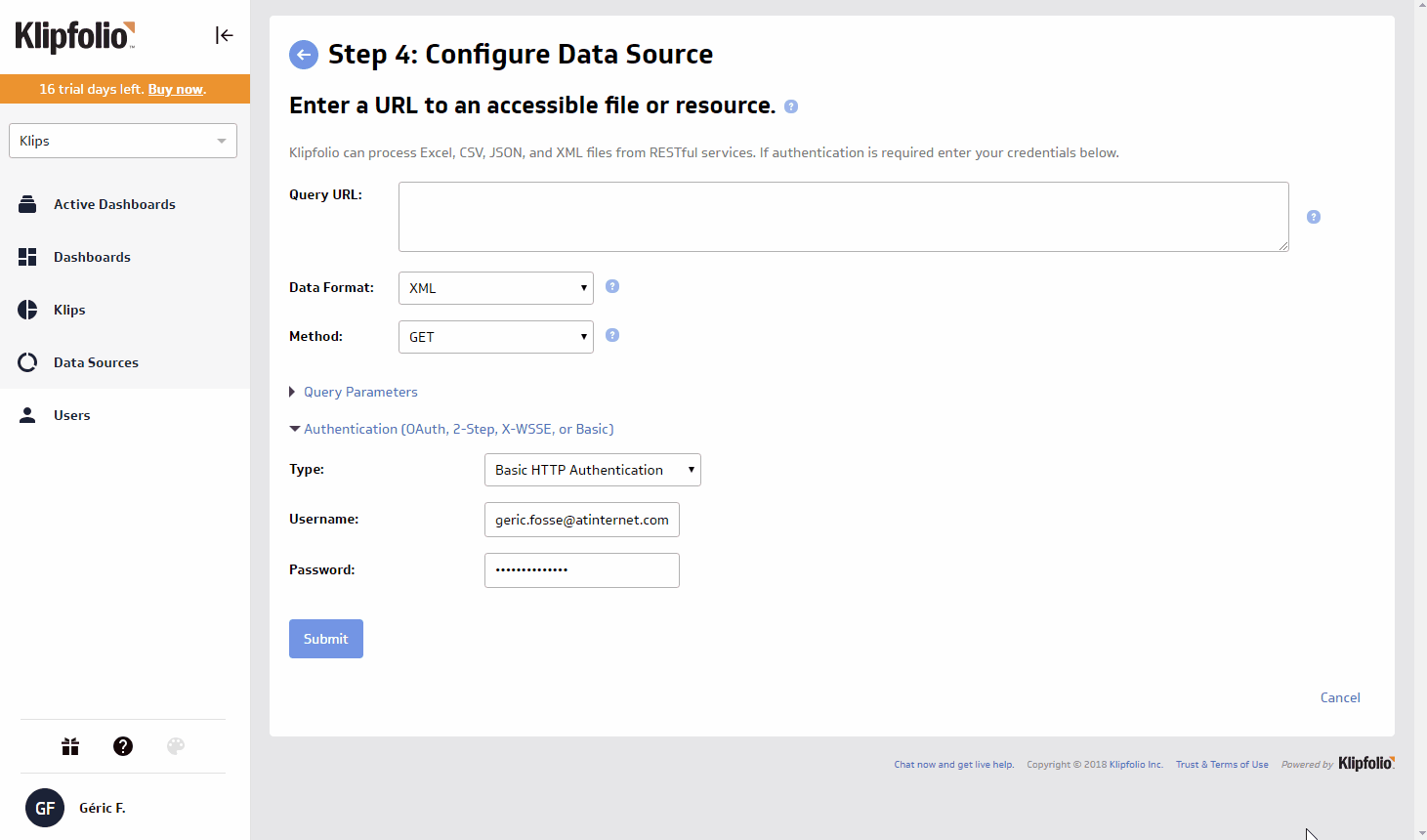 Klipfolio will read the fields in your database and make them available. These data can be used in Attributes (Analysis axes) and Measures (quantitative data).
Klipfolio Offers you to create Klips from these data. Klips are customizable tiles or widgets containing one or more statistical data. These tiles are used to build Dashboards In Klipfolio.
Create your own queries in Klipfolio
This tool allows you to manipulate your measures and your attributes in order to build tiles most suited to your expectations.
You can choose from several types of visualization to format your query: tables, graphs, curves, gauges, pie charts, pictographs, maps, etc.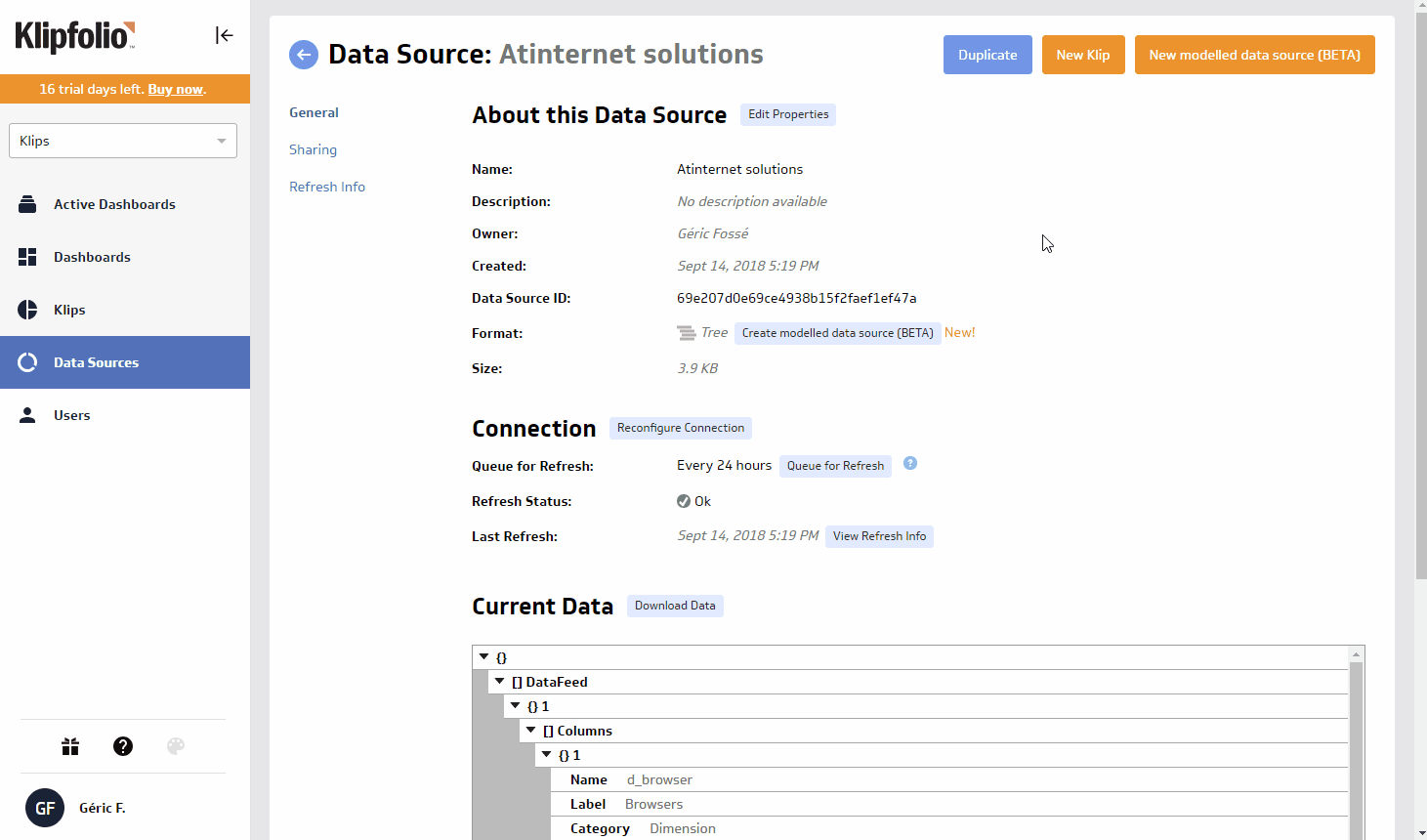 After choosing the format of the Klips, you can select the information to be displayed from the previously defined source data. Below is an example of a table built from the Piano Analytics data.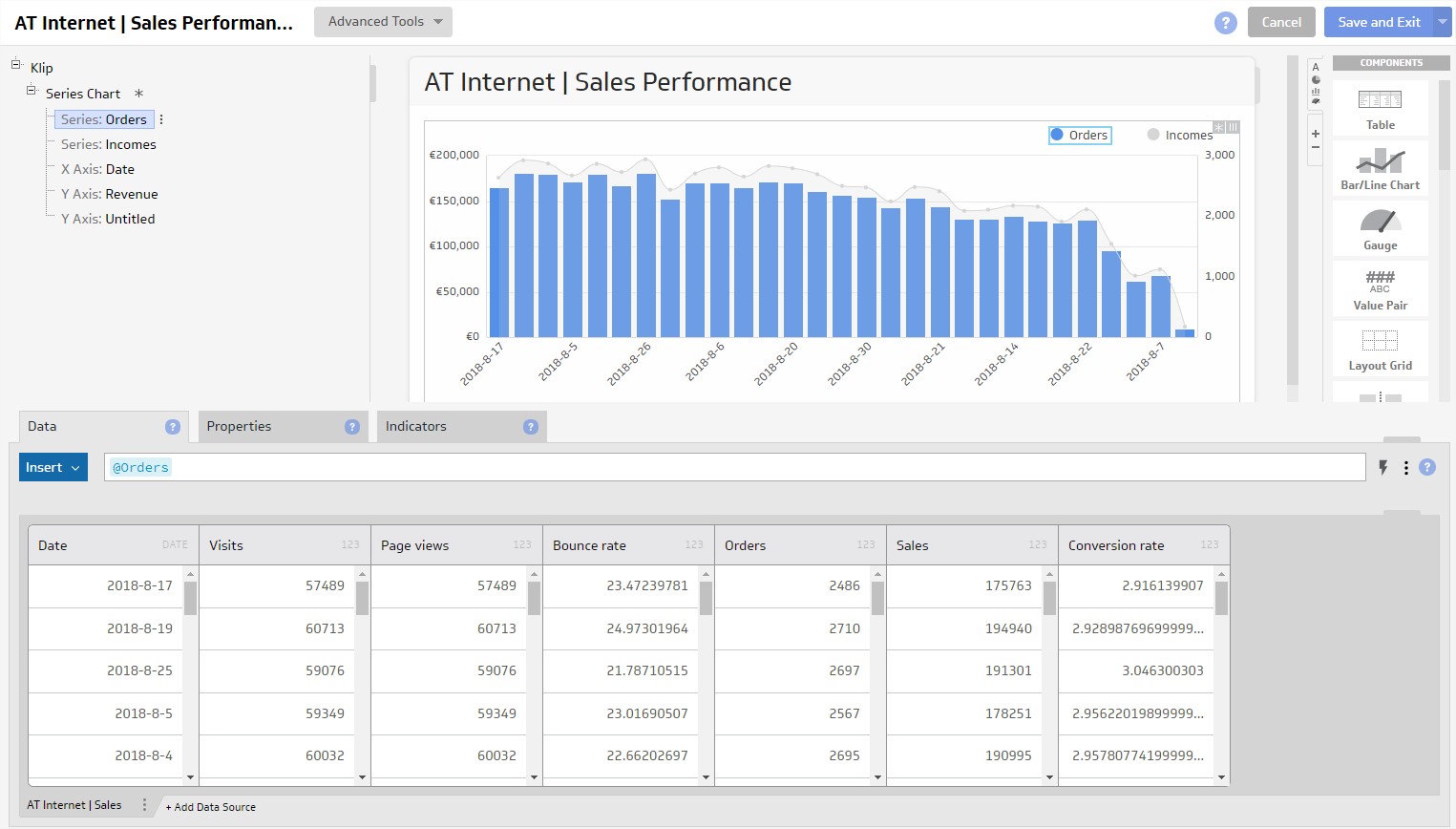 Once saved the Klip will be available when building your Dashboards.
Create your Dashboard
Thanks to the Dashboards space you will be able to consolidate several Klips to get an overview. Below is an example of Dashboard displaying 3 Klips built from the Piano Analytics data.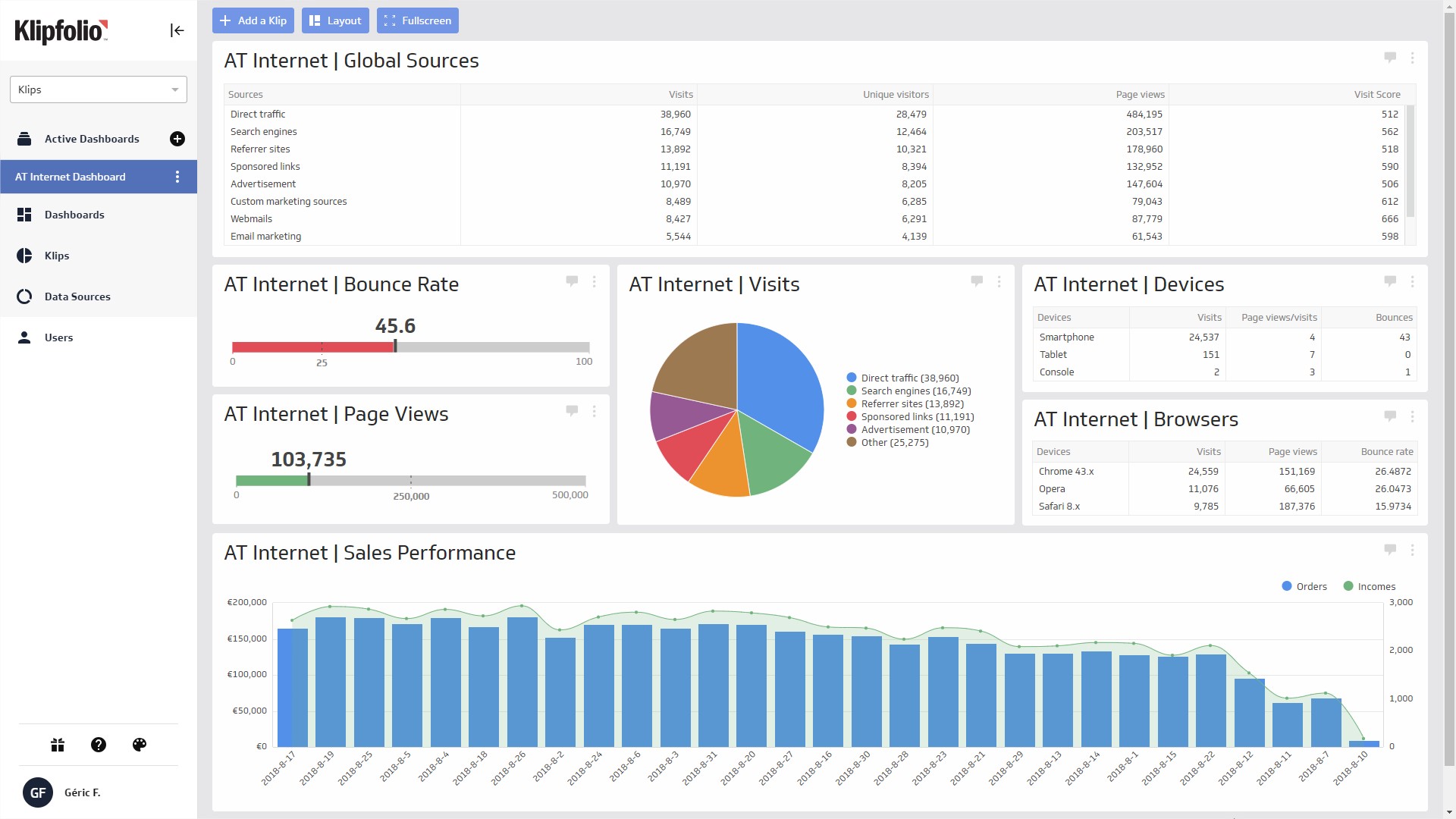 You can choose the number of tiles to display, their distribution and size. The Dashboard can also be displayed in full screen, or even on a black background.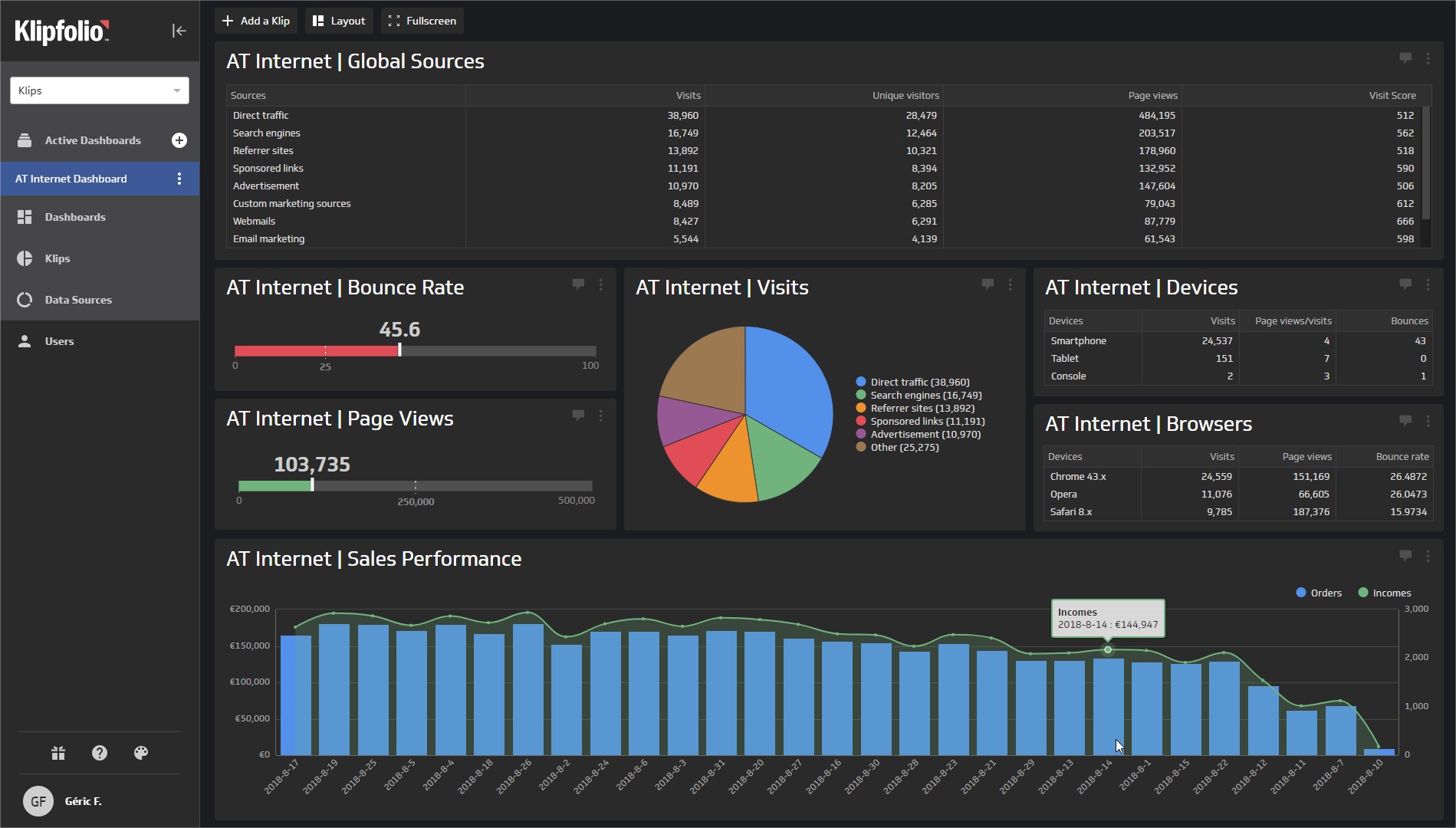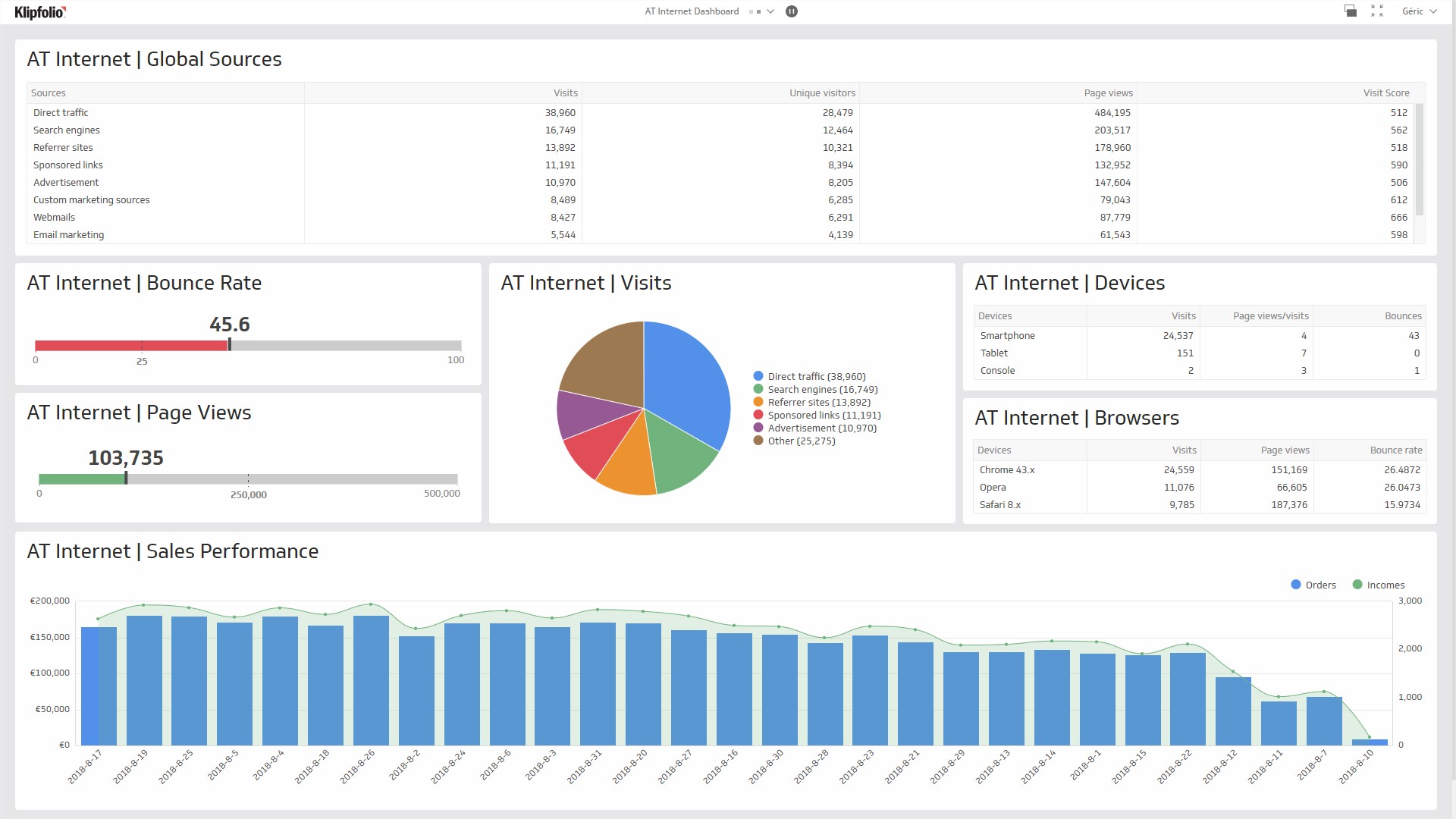 Share your dashboard
Easily share your dashboard with your employees. Klipfolio offers different sharing options:
Access rights depending on the user, groups and roles can be defined.
Dashboards can also be shared through a public or private link.
Automatic mailings can be programmed.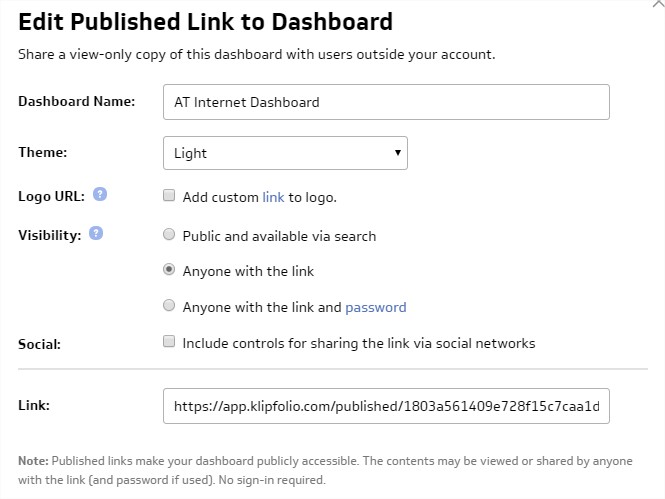 Privacy
Activating this partnership activates the export of Piano Analytics data into Klipfolio. Only the data necessary for the proper functioning of the bridge are exported.