AV Insights is an audio/video module of Piano Analytics that is tailored towards giving you insights on the different contents measured on your live environments. Whether it is ad, live content or VOD, the events and native properties available offer in-depth analyses. With the powerful data model at its core, custom events and properties can be added on top to allow more business specific uses-cases measurement. 
This module is meant to measure in a matter of clicks: 
The best performing pieces of content on your platforms

 

Live concurrent plays 

 

Content completion funnel

 

EBVS and other technical issues on your video contents.

 

And so much more...

 
AV Insights analyses
Contents
The more metadata you have, the more analyses you can conduct. Through these premade analyses you will be able to understand: 
What is the most watched show this month?

 

Through the Overview analyses, the most watched contents will be showcased by default. You can then add more metrics, sort the data and filter the properties.

Does promoting an episode on the front page increase the popularity of the season?

 

You can add the Page property to see how many Playcount each page is responsible for.

Identify you best performing contents through multi-sites queries.

 

Add multiple sites to conduct multi-site analyses and go through the Contents panel.

Concurrent plays
Quickly identify the number of simultaneous plays on your media pieces. Add more properties and filters to get the right information. You can also add segments to target a specific audience based on one or multiple criteria.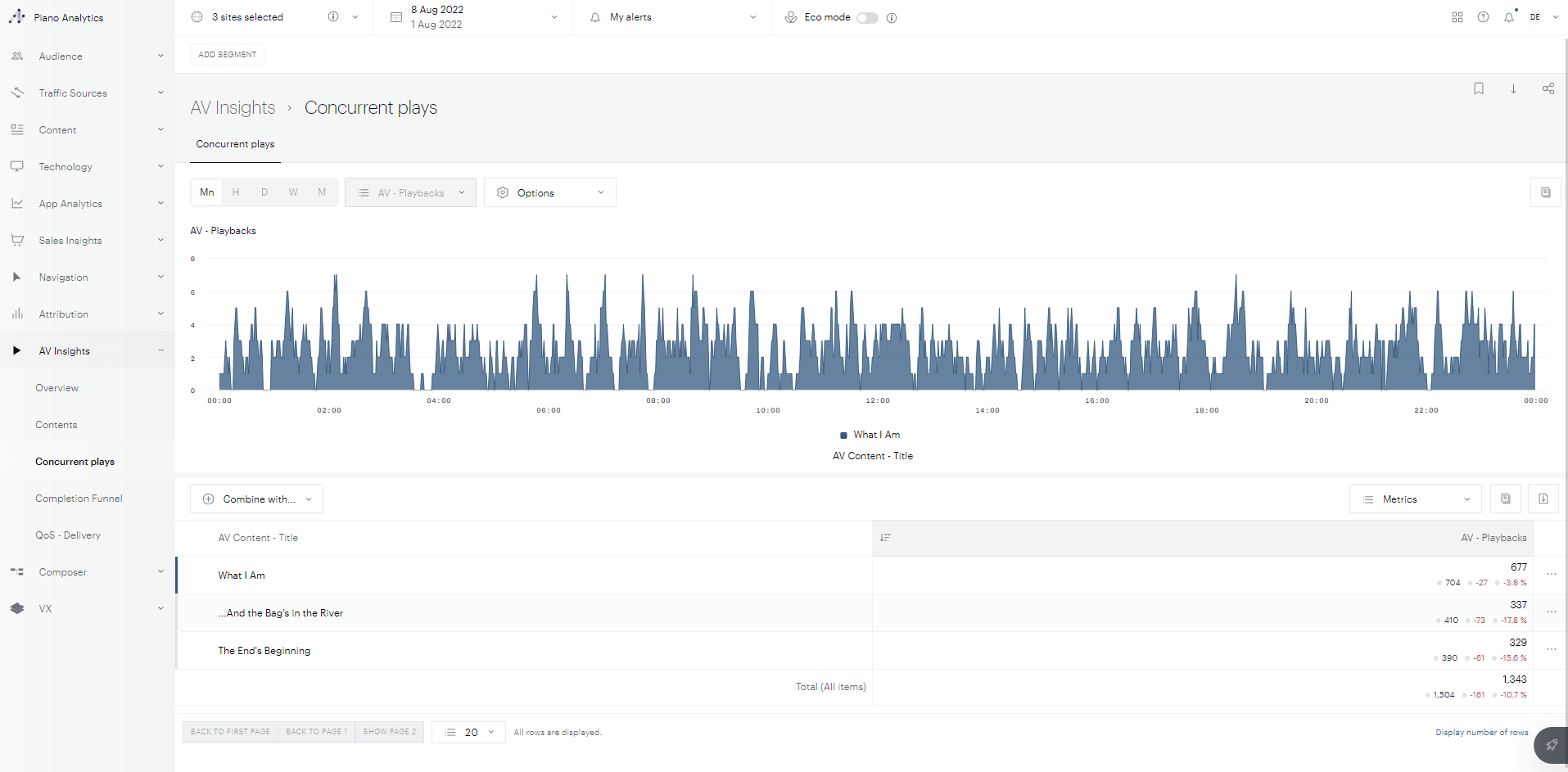 Completion funnel
 The number of playbacks is a key metric, it helps you understand the number of times a content has been launched for a certain amount of time. Another key metric is the time spent, how long have your users watched it.
From the attempts to the entire playback, you'll see all the sessions and the quartiles they fall under. This analyses natively made for the content can also be changed to broader properties such as the Season, the Show, genre etc...    
QoS (Quality Of Services) - Delivery
While some metrics allow you to understand easily how much of a content was consumed per playbacks, the native QoS (Quality Of Services) - Delivery analyses is tailored toward direct input on exits before the video starts or EBVS. This EBVS metric can be inflated by technical errors, that is why the default dataset embarks these metrics as well.  
Customizing this dataset will help you understand in a matter of clicks what are the most impacted piece of content across one or multiple sites.  
How to tag my website
Manually tag my website
If you prefer to tag your site manually, you can consult our brand new documentation:  https://developers.atinternet-solutions.com/piano-analytics/data-collection/how-to-send-events/av-insights   
Mandatory information
Measuring all the events and properties available is not always necessary should AV measurement not be your primary focus. Still, some events and properties are mandatory not only for processing purposes but also to make sure the data available can be exploited safely. 
These mandatory properties/values are detailed here: https://developers.atinternet-solutions.com/piano-analytics/data-collection/how-to-send-events/av-insights#media-properties-list
Measure Audio/Video events
The av_content_id property is the only mandatory one should you want to measure the native AV events on your environments. Without it, the events will be excluded, and the different information attached to the event will be discarded making it impossible to exploit the data aside from the amount of a certain excluded event. 
The developer documentation also provides sequence examples should you need guidance on the best way to track your video playbacks: https://developers.atinternet-solutions.com/piano-analytics/data-collection/how-to-send-events/av-insights#media-sequence-example
Measure time spent
While some metrics regarding the time spent on the video are directly calculated using the timestamp difference between two events, some are calculated using the progression of the cursor position. For these metrics, like AV - Cumulative content-time consumed it is imperative to measure the cursor position properly during the session.